March 3
, 2014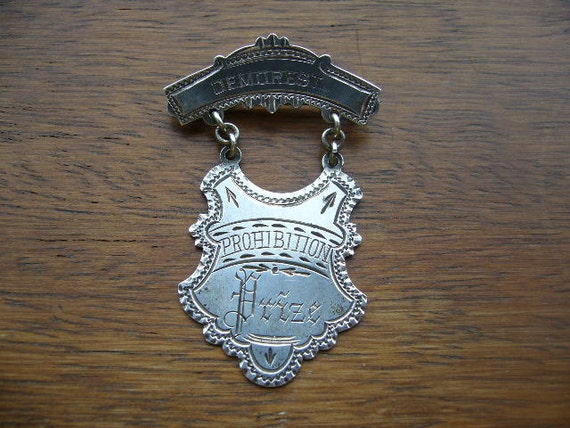 The Demorest Medal
by Barbara Schock
One of the first occasions Carl Sandburg spoke from a platform was at the Mission. It had been established by several Galesburg churches to provide religious services for the residents in his neighborhood. The occasion was the Demorest Medal contest which was sponsored by the Mission's Sunday School. Booklets containing prepared speeches were given to the children to memorize. Each and every speech was devoted to discouraging the consumption of alcoholic beverages.

On the appointed evening, four boys and four girls stood up and "spoke their piece." Judges evaluated each speaker and a silver medal with the name Demorest engraved on a bar above a shield was awarded. Supposedly, the winners could advance to the next level to compete for a gold medal and ultimately, a diamond medal.

Carl picked the shortest article in the booklet and memorized it. His sister Mary also participated in the contest. While speaking Carl forgot the words about halfway through. After a long pause, he was able to finish. He knew he had lost the medal before he left the stage.

The judges announced that Mary Sandburg had given the best speech and she received the silver Demorest medal. She didn't go to the next level of competition.
'
William Jennings Demorest (1822-1895) was a total abstinence man. In 1886 he established the National Bureau of Prohibition to publish anti-alcohol tracts to be used in the Demorest Medal Contests.

He had conducted a dry goods store in New York. Next door a young woman named Ellen Curtis had a millinery shop. She became Demorest's second wife in 1858. They began publishing a magazine entitled Mirror of Fashions in 1860. It became very popular because of the tissue paper dress pattern fastened inside. Even though the pattern was in only one size, it was useful to women making their own clothes.

Mrs. Demorest had an astute understanding of the fashion business. She invented a comfortable corset, an inexpensive hoopskirt and a model drafting system for making dress patterns. Mr. and Mrs. Demorest also invented a sewing machine which could sew backward providing a means for securing the ends of seams.

Mr. Demorest ran for mayor of New York on the Prohibition Ticket, but was unsuccessful. He also helped establish the town of Demorest, Georgia, a community where no drinking was allowed and anyone who misbehaved could be deprived of his property.

Today, Demorest is little known, but there are many examples of his medal available for sale on the Internet.


Date
Title
March 3, 2014
The Demorest Medal
February 24, 2014
Rip Van Winkle
February 17, 2014
Cabbage Soup
February 10, 2014
Lincoln's Birthday
February 3, 2014
The Colonel
January 27, 2014
The Lincoln Penny - A Little History
January 20, 2014
Walking to Work
January 13, 2014
A Small Abode
January 6, 2014
Birth of a Poet
December 30, 2013
Christmas 1880
December 23, 2013
Swedish Christmas
December 16, 2013
The Reporter Sees Santa
December 9, 2013
The Coming of Christmas
December 2, 2013
The Fire Boys Talk
November 25, 2013
Galesburg Will Feast on Turkeys and Cranberries - Thanksgiving 1893
November 18, 2013
Mary Sandburg Johnson
November 11, 2013
Carl Sandburg's Bicycle
November 4, 2013
Lace Curtains
October 28, 2013
The Front Room
October 21, 2013
A Warm Breakfast
October 14, 2013
Marion D. Shutter
October 7, 2013
Cigars and Consumption
September 30, 2013
Forrest F. Cooke & August Sandburg
September 16, 2013
Forrest F. Cooke, Mayor
September 9, 2013
Dusty Streets
September 2, 2013
Typhoid Fever
August 26, 2013
Coffee and Water
August 19, 2013
A Horse! A Horse!
August 12, 2013
Gaddial Scott
August 5, 2013
The Racetrack
July 29, 2013
John Peter Algeld - Part II
July 22, 2013
John Peter Altgeld - Part I
July 15, 2013
Tramps, Tramps, Tramps
July 8, 2013
Lady Liberty
July 1, 2013
Galesburg's Fourth
June 24, 2013
John H. Finley
June 17, 2013
The World's Columbian Exhibition
June 10, 2013
Fruit Short-Cake
June 3, 2013
Horatio Alger, Author
May 27, 2013
Memorial Day, 1887
May 20, 2013
Professor Jon W. Grubb
May 13, 2013
Beginnings of Lombard University
May 6, 2013
Young Sandburg's View of Lombard College
April 29, 2013
Thinking
April 22, 2013
Robert Colville, Master Mechanic
April 15, 2013
The Galesburg Opera House
April 8, 2013
Grocery Stores and Sample Rooms
April 1, 2013
A Hearty Breakfast
March 25, 2013
The Lost Wallpaper Legend
March 18, 2013
Martin G. Sandburg

March 4, 2013

The Edison Talking Machine
February 25, 2013
Joe Elser, Civil War Veteran
February 18, 2013
Remember the Maine...
February 11, 2013
Lincoln's Birthday
February 4, 2013
Curiosity