June 15, 2015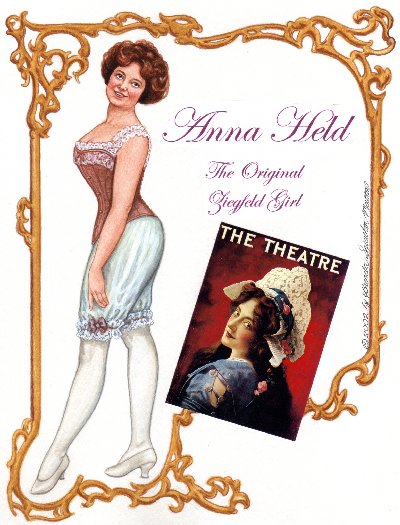 Anna Held & John Drew
by Barbara Schock
Carl Sandburg remembered seeing, in the 1890s, a poster of two famous thespians by the names of Anna Held and John Drew. Some clever person created a depiction of a woman and a man each holding in their hand five playing cards. Under the two names were two sentences: "This is the hand Anna Held" and "This is the hand John Drew." It passed for great wit in those days.
Anna Held was born in Warsaw, Poland, which was part of Russia at that time, on March 19, 1872. Her parents were Maurice and Yvonne Pierre Held. He was a glovemaker. Because of the anti-semitic pogroms, the family was forced to flee to Paris. Maurice worked as a janitor and Yvonne operated a kosher restaurant. Anna worked in a garment factory and began to sing in Jewish theaters.
Her outgoing personality was popular with the public. She sang risque songs and was willing to show a little of her ankles. Her flirtatious manner had an appeal for the public.
In 1896 she appeared in London. Florenz Ziegfeld, a prominent theatrical producer in the United States , saw her perform. He asked Anna to return to New York with him. He created a wave of publicity which caused much interest in Anna Held in this country. The critics dismissed her acting ability, but the public liked her. Ziegfeld helped her become a millionaire with his promotions.
Miss Held continued to perform in vaudeville for the rest of her career. She went to the front in France during World War I to perform for the troops. She was well regarded because of these appearances and for the money she raised for the war effort.
Anna Held died August 12, 1918, of multiple myeloma. Her funeral was conducted from St. Patrick's Cathedral in Manhattan. She was buried in Gate of Heaven Cemetery, Hawthorne, New York. She had converted to Catholicism as a young woman.
John Drew as Petruchio
John Drew was born November 13, 1853, into one of the first families of the American theater. He was a brother to Louisa, Georgiana and Sidney Drew, all well known actors of the day. Therefore, he was the uncle of John, Ethel and Lionel Barrymore, famous actors of the twentieth century and the great great uncle of Drew Barrymore.
He started his acting career in the family's theater in Philadelphia. His ability was recognized early in his life. He performed in Shakespearean comedies, society dramas and farces, as well as contemporary works of the time. Unfortunately, he never appeared in films so there is no visual record of his career. John Drew was regarded as the leading matinee idol of his day.
John Drew died July 9, 1927, in San Francisco. His nephews, John and Lionel Barrymore, had visited him shortly before his death. His ashes were interred in Mount Vernon Cemetery, Philadelphia.
After the death of Anna Held, Carl Sandburg wrote a poem in memory of her. It was titled "An Electric Sign Goes Dark." It was part of the collection in Smoke and Steel published in 1922. Perhaps he remembered the picture he had seen in pool halls and saloons in the 1890s.
Date
Title
June 22, 2015
Anna Held & John Drew
June 15, 2015
Hartel & Secker Meat Market
June 8, 2015
Girls
June 1, 2015
Old First Church - Part II
May 25, 2015
Old First Church - Part I
May 18, 2015
Marbles
May 11, 2015
Pawnee County, Kansas
May 4, 2015
Detective Stories and the Real Thing
April 27, 2015
Professor Isaac A. Parker
April 20, 2015
Celluloid Collars
April 13, 2015
Asparagus
April 6, 2015
Mayor John C. Stewart
March 30, 2015
Basket Ball
March 23, 2015
The Courthouse of Knox County, IL
March 16, 2015
March 9, 2015
Uncle Tom's Cabin
March 2, 2015
Martha Sandburg Goldstone
February 23, 2015
Devotion
February 16, 2015
Gumbiner's Pawn Shop
February 9, 2015
White Bread
February 2, 2015
The Monarch Club
January 26, 2015
The Silver Dollar
January 19, 2015
The Fulton County Narrow Gauge Railway
January 12, 2015
The Four Corners
December 22, 2014
Swedish Christmas
December 8, 2014
Christmas 1878
December 1, 2014
Bunker Boots & Shoes
November 24, 2014
Galesburg, Illinois
November 17, 2014
It was Buffalo Bill's Day
November 10, 2014
The Election of 1896 (A follow-up story)
November 3, 2014
The Election of 1896

(continued)

October 27, 2014
The Election of 1896
October 24, 2014
The Rissywarn
October 20, 2014
The Parlor Stove
October 13, 2014
Ashes to Ashes
October 6, 2014
Jesse James
Sept. 29, 2014
Lester T. Stone, Public Servant
Sept. 22, 2014
It's Who You Know
Sept 15, 2014
Mother of the Illinois Flag
Sept 8, 2014
The Scissors Grinder
Sept 1, 2014
Baseball
August 25, 2014
Howard K. Knowles, Capitalist
August 18, 2014
Alcoholic Beverages
August 11, 2014
Soda Water
August 4, 2014
Sweet Corn
July 28, 2014
Marching Through Georgia
July 21, 2014
The Knox County Fair
July 14, 2014
The Panic of 1893
July 7, 2014
The Rev. T. N. Hasselquist
June 30, 2014
The Knox County Courthouse
June 23, 2014
The Family Photograph Album
June 16, 2014
Parades
June 9, 2014
Lingonberries
June 2, 2014
Where We Live
May 26, 2014
Old Main
May 19, 2014
Rhythms of the Railroad
May 12, 2014
Spring Tonic
May 5, 2014
The Milkmen
April 28, 2014
Gray's "Elegy..."
April 21, 2014
Off to War
April 14, 2014
Swedish Easter
April 7, 2014
A Father's Face
March 31, 2014
Secret Societies
March 24, 2014
George A. Murdock, Merchant
March 10, 2014
Trade Cards
March 3, 2014
The Demorest Medal
February 24, 2014
Rip Van Winkle
February 17, 2014
Cabbage Soup
February 10, 2014
Lincoln's Birthday
February 3, 2014 4
The Colonel
January 27, 2014
The Lincoln Penny - A Little History
January 20, 2014
Walking to Work
January 13, 2014
A Small Abode
January 6, 2014
Birth of a Poet
December 30, 2013
Christmas 1880
December 23, 2013
Swedish Christmas
December 16, 2013
The Reporter Sees Santa
December 9, 2013
The Coming of Christmas
December 2, 2013
The Fire Boys Talk
November 25, 2013
Galesburg Will Feast on Turkeys and Cranberries - Thanksgiving 1893
November 18, 2013
Mary Sandburg Johnson
November 11, 2013
Carl Sandburg's Bicycle
November 4, 2013

Lace Curtains

October 28, 2013
The Front Room
October 21, 2013
A Warm Breakfast
October 14, 2013
Marion D. Shutter
October 7, 2013
Cigars and Consumption
September 30, 2013
Forrest F. Cooke & August Sandburg
September 16, 2013
Forrest F. Cooke, Mayor
September 9, 2013
Dusty Streets
September 2, 2013
Typhoid Fever
August 26, 2013
Coffee and Water
August 19, 2013
A Horse! A Horse!
August 12, 2013
Gaddial Scott
August 5, 2013
The Racetrack
July 29, 2013
John Peter Algeld - Part II
July 22, 2013
John Peter Altgeld - Part I
July 15, 2013
Tramps, Tramps, Tramps
July 8, 2013
Lady Liberty
July 1, 2013
Galesburg's Fourth
June 24, 2013
John H. Finley
June 17, 2013
The World's Columbian Exhibition
June 10, 2013
Fruit Short-Cake
June 3, 2013
Horatio Alger, Author
May 27, 2013
Memorial Day, 1887
May 20, 2013
Professor Jon W. Grubb
May 13, 2013
Beginnings of Lombard University
May 6, 2013
Young Sandburg's View of Lombard College
April 29, 2013
Thinking
April 22, 2013
Robert Colville, Master Mechanic
April 15, 2013
The Galesburg Opera House
April 8, 2013
Grocery Stores and Sample Rooms

April 1, 2013

A Hearty Breakfast

March 25, 2013

The Lost Wallpaper Legend

March 18, 2013
Martin G. Sandburg

March 4, 2013

The Edison Talking Machine
February 25, 2013
Joe Elser, Civil War Veteran
February 18, 2013
Remember the Maine...
February 11, 2013
Lincoln's Birthday
February 4, 2013
Curiosity