January 2, 2017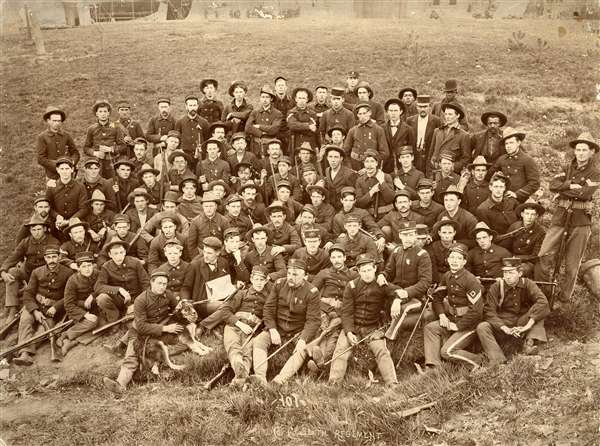 Company C, Sixth Infantry Regiment, Illinois Volunteers

Photograph - c1898
Sergeant Charles J. Rose
by Barbara Schock
In his autobiography, Always the Young Strangers, Carl Sandburg wrote that "Cully" Rose "knew everything a property man ought to know, and if you wanted an argument anytime he could give it to you. Usually he told you where to get off before you could start an argument."
Rose was born September 1, 1874, to August and Maria Johnson Rose in Galesburg. They were natives of Sweden and were married there. Their first two children were born in Sweden. Charles was the first of several more children born in Galesburg. The elder Rose was a shoe and bootmaker. In the 1880s he worked for the D.W. Bunker Shoe Store.
Cully attended one year of high school and in 1895 went to work at the Auditorium at the corner of East Ferris and North Broad Streets. Sandburg and other boys worked for him moving scenery and acting as bit players. If they had to climb into the "flies" to change scenery, they were paid ten cents (equal to $2.87 in today's money). A small compensation for handling ropes thirty or forty feet above the stage.
Rose enlisted in Company C, Sixth Infantry Regiment (Illinois National Guard) in 1894. He was elected sergeant of the company. On April 26, 1898, Company C departed from Galesburg at 10:00 p.m. by train. They received a cheering send-off from the citizens of the city. Sandburg had enlisted the same day and said farewell to his family at the depot.
Charlie Rose later wrote a history of the unit's service in Puerto Rico during the Spanish-American War. His description illustrates the miserable conditions under which the men served. The poor food, the hot and humid weather, the lack of supplies, the insects, the rain and mud combined to make a horrible experience. When the company returned to Galesburg in September, some of the men had to be carried from the railroad cars.
For the rest of his life, Rose was devoted to the Clark Mills Carr Camp 26 of the United Spanish War Veterans and Post 2257 of the Veterans of Foreign Wars. He filled many of the offices of the two organizations and arranged reunions of the Company C men for many years. Sandburg attended as many reunions as his schedule would allow.
At the age of thirty-eight Rose married Ellen E. Keefe. She was a willing participant in the auxiliary organizations associated with her husband's memberships. They purchased a home at 1494 Mulberry and lived there the rest of their lives.
Rose held a variety of jobs after leaving the Auditorium stage. He was a machinist at the apron factory, a bill poster, clerked in a hardware store and was a night watchman. He would often reminisce about the many famous people he had met while working at the Auditorium.
Charles Rose died May 5, 1951, and was buried in Linwood Cemetery. The pallbearers included several of his nephews. Honorary pallbearers were named and each was a veteran of the Spanish-American War. Mrs. Rose lived until 1956. She was interred next to her husband. His parents had been buried in the same lot in 1903.
Date
Title
January 2, 2017
Sergeant Charles J. Rose
December 19, 2016
Hazelnuts
December 12, 2016
Minstrel Shows
December 7, 2016
Memories of Pearl Harbor
December 5, 2016
The Coffee Mill
November 28, 2016
Robert J. Samuelson
November 21, 2016
The Chrysanthemum Rules
November 14, 2016
Newspapers
October 31, 2016
Frederick Dickinson
October 24, 2016
The Reverend Carl A. Nyblad
October 17, 2016
Talk Not Always Cheap
October 10, 2016
"It Will Live in Bronze"

September 19, 2016

J. Charles "Frenchy" Juneau
September 12, 2016
September 5, 2016
Obituaries
August 29, 2016
Aaron Boyer, Broommaker
August 22, 2016
The Panic of 1873
August 15, 2016
The Swan Prize
August 8, 2016
Chautauqua
July 18, 2016
Street Lighting
July 11, 2016
Cedar Fork
July 4, 2016
Shelden W. Allen
June 20, 2016
Conrad Byloff
June 13, 2016
Edward W. Rosenberg
June 6, 2016
Lawrence Futhey
May 30, 2016
Memory
May 23, 2016
Decoration Day, 1881
May 16, 2016
William Cullen Bryant
May 9, 2016
College Days
May 2, 2016
A Military Career Thwarted
April 25, 2016
How to Sweep a Room
April 18, 2016
The Marsh Horse and Mule Market

April 11, 2016

Horses Everywhere
April 4, 2016
Victor A. Thoureen
March 28, 2016
Nicknames
March 21, 2016
Corporal Edward P. Peckenpaugh
March 14, 2016
Hold Still!
March 7, 2016
Capt. T. L. McGirr
February 29, 2016
Sparrow Season
February 22, 2016
George W. Erickson
February 15, 2016
George Helgeson Fitch
February 8, 2016
Anna Charlotte Goldquist
February 1, 2016
"Little Boy Blue"
January 25, 2016
Always the Young Strangers
January 18, 2016
George R. Longbrake
January 11, 2016
Fred Cook
January 4, 2016
Domestic Help
December 14, 2015
Justice of the Peace B.F. Holcomb
November 30, 2015
Standardized Time
November 23, 2015
Joseph H. Knutson
November 16, 2015
Wells and Cisterns
November 2, 2015
Willis E. Calkins
October 26, 2015
Galesburg Pottery
October 19, 2015
Private Lewis H. Kay
October 12, 2015
The Klondike Gold Rush
September 28, 2015
Charles L. Bloomgren
September 21, 2015
The Gilded Age
September 14, 2015
Oliver Optic
August 31, 2015
The "Spanish" Cannon
August 24, 2015
The Company C Men
August 17, 2015
Jacob A. Riis
August 10, 2015
Mason Jars
August 3, 2015
October 7, 1896
July 27, 2015
The Soldier's Monument
July 20, 2015
Ice
July 13, 2015
Moses O. Williamson
July 6, 2015
Sweet Little Alix
June 29, 2015
Sharlie's Shickens
June 22, 2015
Anna Held & John Drew
June 15, 2015
Hartel & Secker Meat Market
June 8, 2015
Girls
June 1, 2015
Old First Church - Part II
May 25, 2015
Old First Church - Part I
May 18, 2015
Marbles
May 11, 2015
Pawnee County, Kansas
May 4, 2015
Detective Stories and the Real Thing
April 27, 2015
Professor Isaac A. Parker
April 20, 2015
Celluloid Collars
April 13, 2015
Asparagus
April 6, 2015
Mayor John C. Stewart
March 30, 2015
Basket Ball
March 23, 2015
The Courthouse of Knox County, IL
March 16, 2015
March 9, 2015
Uncle Tom's Cabin
March 2, 2015
Martha Sandburg Goldstone
February 23, 2015
Devotion
February 16, 2015
Gumbiner's Pawn Shop
February 9, 2015
White Bread
February 2, 2015
The Monarch Club
January 26, 2015
The Silver Dollar
January 19, 2015
The Fulton County Narrow Gauge Railway
January 12, 2015
The Four Corners
December 22, 2014
Swedish Christmas
December 8, 2014
Christmas 1878
December 1, 2014
Bunker Boots & Shoes
November 24, 2014
Galesburg, Illinois
November 17, 2014
It was Buffalo Bill's Day
November 10, 2014
The Election of 1896 (A follow-up story)
November 3, 2014
The Election of 1896

(continued)

October 27, 2014
The Election of 1896
October 24, 2014
The Rissywarn
October 20, 2014
The Parlor Stove
October 13, 2014
Ashes to Ashes
October 6, 2014
Jesse James
Sept. 29, 2014
Lester T. Stone, Public Servant
Sept. 22, 2014
It's Who You Know
Sept 15, 2014
Mother of the Illinois Flag
Sept 8, 2014
The Scissors Grinder
Sept 1, 2014
Baseball
August 25, 2014
Howard K. Knowles, Capitalist
August 18, 2014
Alcoholic Beverages
August 11, 2014
Soda Water
August 4, 2014
Sweet Corn
July 28, 2014
Marching Through Georgia
July 21, 2014
The Knox County Fair
July 14, 2014
The Panic of 1893
July 7, 2014
The Rev. T. N. Hasselquist
June 30, 2014
The Knox County Courthouse
June 23, 2014
The Family Photograph Album
June 16, 2014
Parades
June 9, 2014
Lingonberries
June 2, 2014
Where We Live
May 26, 2014
Old Main
May 19, 2014
Rhythms of the Railroad
May 12, 2014
Spring Tonic
May 5, 2014
The Milkmen
April 28, 2014
Gray's "Elegy..."
April 21, 2014
Off to War
April 14, 2014
Swedish Easter
April 7, 2014
A Father's Face
March 31, 2014
Secret Societies
March 24, 2014
George A. Murdock, Merchant
March 10, 2014
Trade Cards
March 3, 2014
The Demorest Medal
February 24, 2014
Rip Van Winkle
February 17, 2014
Cabbage Soup
February 10, 2014
Lincoln's Birthday
February 3, 2014 4
The Colonel
January 27, 2014
The Lincoln Penny - A Little History
January 20, 2014
Walking to Work
January 13, 2014
A Small Abode
January 6, 2014
Birth of a Poet
December 30, 2013
Christmas 1880
December 23, 2013
Swedish Christmas
December 16, 2013
The Reporter Sees Santa
December 9, 2013
The Coming of Christmas
December 2, 2013
The Fire Boys Talk
November 25, 2013
Galesburg Will Feast on Turkeys and Cranberries - Thanksgiving 1893
November 18, 2013
Mary Sandburg Johnson
November 11, 2013
Carl Sandburg's Bicycle
November 4, 2013

Lace Curtains

October 28, 2013
The Front Room
October 21, 2013
A Warm Breakfast
October 14, 2013
Marion D. Shutter
October 7, 2013
Cigars and Consumption
September 30, 2013
Forrest F. Cooke & August Sandburg
September 16, 2013
Forrest F. Cooke, Mayor
September 9, 2013
Dusty Streets
September 2, 2013
Typhoid Fever
August 26, 2013
Coffee and Water
August 19, 2013
A Horse! A Horse!
August 12, 2013
Gaddial Scott
August 5, 2013
The Racetrack
July 29, 2013
John Peter Algeld - Part II
July 22, 2013
John Peter Altgeld - Part I
July 15, 2013
Tramps, Tramps, Tramps
July 8, 2013
Lady Liberty
July 1, 2013
Galesburg's Fourth
June 24, 2013
John H. Finley
June 17, 2013
The World's Columbian Exhibition
June 10, 2013
Fruit Short-Cake
June 3, 2013
Horatio Alger, Author
May 27, 2013
Memorial Day, 1887
May 20, 2013
Professor Jon W. Grubb
May 13, 2013
Beginnings of Lombard University
May 6, 2013
Young Sandburg's View of Lombard College
April 29, 2013
Thinking
April 22, 2013
Robert Colville, Master Mechanic
April 15, 2013
The Galesburg Opera House
April 8, 2013
Grocery Stores and Sample Rooms

April 1, 2013

A Hearty Breakfast

March 25, 2013

The Lost Wallpaper Legend

March 18, 2013
Martin G. Sandburg

March 4, 2013

The Edison Talking Machine
February 25, 2013
Joe Elser, Civil War Veteran
February 18, 2013
Remember the Maine...
February 11, 2013
Lincoln's Birthday
February 4, 2013
Curiosity